About Kurtz Nursery and Topsoil and Our Bulk Mulch, Topsoil, & Compost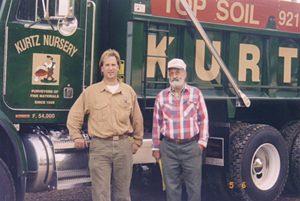 If you are looking for the very best in bulk mulch and topsoil deliveries for your garden, playground, or sports field, look no further than Kurtz Nursery and Topsoil. We have been in the industry for over 8 decades, supplying and delivering top quality topsoil and landscaping products to clients all over the St. Louis area.
As an established topsoil company in the St. Louis area, we trace our roots back to 1925 when Richard Kurtz founded a company called Clayton Landscape Supply. Since then, we have been bringing residential and commercial customers in St. Louis all of the quality landscaping supplies and materials they need to complete their landscaping projects. We are now the fourth generation of this family-run business. Our goal is, and always has been, to provide our St. Louis customers with the best quality bulk mulch and topsoil that they can ever find.
To learn more about the products we offer or to place a bulk mulch or topsoil delivery order, call us today at 636-332-1928. We look forward to working with you and answering any questions you may have.
Types of Bulk Mulch That We Offer
Our selection of landscaping materials includes a variety of wood mulches for all your needs. Our mulch is made of the finest oak and other hardwoods that have been locally sourced and ground to an even consistency. The following are some of the bulk mulch varieties that we can deliver: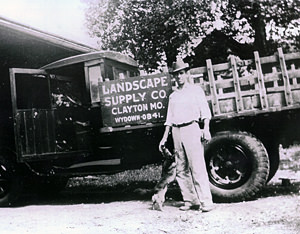 Double Ground Hardwood Bark: Perhaps one of the most widely used bulk mulch varieties; this mulch is made from the finest oak and is far sturdier than most other mulches. Over time, it will become compact and resistant to blowing or washing away. Therefore, this mulch is great for sloping beds and gardens.
Triple Ground Hardwood Bark: This type of mulch has a dark color and super-fine texture making it wonderful for your landscaped plant and flower beds. It is great for preventing weeds as well as erosion. Like all our bulk mulch, this is also designed to keep moisture in.
Brown Dyed Mulch: Our bulk mulch is also available in different colors for aesthetic purposes. Our brown dye is all-natural and completely safe. Brown mulch looks natural and is a great addition to your garden.
Black Dyed Mulch: If you really want to make the greens and other colors of your plants pop, black bulk mulch is a great way to do it. Our dye is biodegradable, non-toxic, and safe for your plants.
Native Ground Bark: For a truly economic bulk mulch option, try native bark. This mulch is made by recycling hardwoods that are locally grown and sourced. Putting the tree bark back into the earth is an environmentally sound way to provide natural fertilizer for your garden.
Playground Chips: High quality playground wood chips are very important for the safety of our children. All our playground chips conform to the CPSC guidelines and are perfect for schools, parks, and other playgrounds.
Our Other Quality Products
At Kurtz Nursery and Topsoil, we offer so much more than just bulk mulch. We also bring you the finest topsoil, bioretention and raingarden soil, compost, and turf grass that you will need for any landscaping or gardening project. Here is a look at some of the other top quality products that we can supply you with:
Topsoil: We have the best quality fill dirt, custom soil blends, and athletic field dirt that you could possibly need.
Compost: From leaf compost to manure compost, we have it all. We can even give you the option of custom compost blends to suit your needs.
Turf Grass: We supply rolls of the best, local turf type fescue and bluegrass for your Missouri garden.
All our products are quality tested so that you never get anything less than the best. We also deliver all our supplies in bulk directly to your home or worksite for your convenience.
Choose Kurtz Nursery for Our Premium Bulk Mulch Deliveries
Our goal is to become the primary choice for those who need bulk mulch, topsoil, and compost delivered throughout the St. Louis area. With our unmatched customer service and our dedication to bringing you only the best quality bulk mulch and topsoil products, you are sure to find any landscaping materials to suit your needs with us. Our motto is "Get a load of this", and we strive to make sure that all of our customers are glad that they did.
If you would like to learn more about us and any of our mulch or topsoil for sale, call us today at 636-332-1928.