Learn More About the Topsoil for Sale at Kurtz Nursery and Topsoil in St. Louis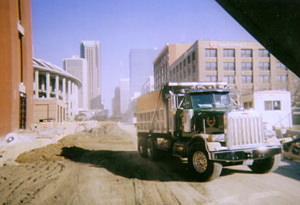 When you need top quality landscaping supplies delivered in bulk, you need Kurtz Nursery and Topsoil. Located in Wentzville, MO, we specialize in the supply and delivery of all kinds of soils, mulches, and composts for clients located all over the St. Louis area. The topsoil for sale at Kurtz nursery is some of the best you will find in the area. We also sell raingarden and bioretention soil, mulch, and compost for all of your landscaping and gardening needs. Additionally, we can supply sod and turf grass through our sister company, Kurtz Turf Farm.
As a trusted topsoil supply company, we supply topsoil for sale to schools, government construction project, landscaping companies, and even private homeowners located throughout the St. Louis area. With our fleet of trucks, we can handle bulk deliveries of any size or you can pick up your order from us directly. To learn more about us or to place an order for our topsoil for sale, you can contact us using the form or information below.
Main Office

2054 Swaying Oaks Road,
Wentzville, MO 63385

Phone: 636-332-1928

Office Hours:
Monday – Friday: 7:30 AM – 4:30 PM
Saturday: 7:00 AM – 2:00 PM

---

Topsoil, Mulch, Blends, & Compost Pick Up

17905 North Outer 40 Road
Chesterfield, MO 63005

Phone: 636-405-2667

Hours:
Monday - Saturday: 7:00 AM - 5:00 PM

---

Sod Pick Up

3078 New Town Blvd
St. Charles, MO 63301

Hours:
Call our office to schedule pick up
Learn More About Our Mulch, Compost, and Topsoil for Sale
We have many types of compost, mulch, and topsoil for sale here at Kurtz Nursery and Topsoil. Here is an overview of our products: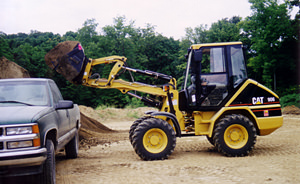 Topsoil – We have some of the best topsoil for sale at Kurtz Nursery. Our topsoil comes from six sources around the St. Louis area, and we have many varieties of topsoil for sale. Whatever your needs are, we have a soil to meet your requirements. We can provide custom soil blends, clean fill dirt, athletic soil mixes, and other topsoil to any client, including both residential and commercial. All of our topsoil is processed through the best shredder-sifter machines in order to give you a uniform and easy-to-use consistency.
Raingarden and Bioretention Soil – Our raingarden and bioretention soil complies with the specifications outlined by the Metropolitan Sewer District of St. Louis. Tests are performed on this soil once every 30 days to ensure that it is fit for use. These tests check the pH level, organic matter, phosphorous, calcium, potassium, and magnesium level. They also check the cation exchange capacity as well as a particle analysis.
Mulch – To accompany our topsoil for sale, we also offer a range of mulch for all your needs. This includes double ground and triple ground shredded mulch as well as dyed mulch in brown and black. All of our mulch is twice checked for consistency in size and texture, and our dyed mulch is colored with environmentally safe dyes. We also offer wood chips made from native ground bark that are perfect for playgrounds and pathways.
Compost – Compost is a great addition to soil to add nutrients and improve plant growth rates. Our compost is made from all organic matter such as leaves and manure. By using compost, soil fertility is increased and drought damage is reduced without resorting to potentially harmful chemical-based solutions. Compost also makes soil easier to cultivate and breaks down tough clay soils. Our types of compost for sale include leaf mulch, manure compost, and organic compost.
Turf Grass – Through our sister company, Kurtz Turf Farm, we supply bluegrass and turf type fescue sod. These turf grass sods are ideal for St. Louis weather and are sure to make your landscaping more vibrant and lively. Our fescue is better at handling the dry St. Louis summers, while bluegrass is best at repairing itself in case of damage.
All of our mulch, sod, compost, and topsoil for sale can be delivered or picked up in bulk quantities of almost any size.
Why You Should Choose our Topsoil for Sale
Kurtz Nursery and Topsoil promises you the very best in service and products delivered to your door or worksite. We have 6 point source topsoil locations throughout the St. Louis for quicker deliver and lower delivery cost. There are few other landscaping suppliers who can promise the same at the competitive prices that we do. We have only the highest quality mulch, compost, and topsoil for sale.
As a local company, we know exactly what a garden in St Louis needs, and we bring just that to you.
Find  the Best Topsoil for Sale at Kurtz Nursery
For the guarantee that you are getting the best topsoil for sale, look no further than Kurtz Nursery. You can contact us to learn more about our products or to place a bulk order for mulch, compost, turf grass, or topsoil for sale. Call us today at 636-332-1928!